Print Friendly
Topics: Symbols | Common abbreviations | Search tips | Change your password
Bell's Compendium is simple and intuitive. You can search for cases by using the topical Table of Contents or by key words or case name. (Note: we use the defendant's name. No need to use "People v." or "U.S. v.")
For example, if you remember a case involved a "pickup," you can find all of our case summaries with that word (see more Search Tips below).
Case names that are shown in UPPERCASE indicate decisions where a search has been declared illegal and evidence suppressed. Cases in lowercase are those that have come out the other way. This allows you to find supporting authority for your particular set of facts.
Symbols
@ A case that has been depublished or has been overruled.
†   A case that has been granted cert. by the U.S. Supreme Court
*   A case granted review by the California Supreme Court, or transferred back to the Court of Appeal.
( ) In our Table of Cases, this designates a page number where the case is cited within another case summary.
Common abbreviations we use:
A-W…ARREST WARRANT
H…HEROIN
Prohib…PROHIBITION
BUG…WIRETAP
K-N…KNOCK NOTICE
S-F…STOP & FRISK
CON…CONSENT
MJ…MARIJUANA
Supp…SUPPRESSION
DEN…DENIED/DENIAL
AFF…AFFIRMED
REV…REVERSED
Conv…CONVICTION
P-C…PROBABLE CAUSE
S-W…SEARCH WARRANT
Dis…DISMISSAL
Poss…POSSESSION
T-D…TEMPORARY DETENTION
DISS…DISSENT
Search Tips
Our search feature defaults to searching for ANY of the search terms you enter. The results will display a list of pages containing the individual words in your search, along with how many times each word appeared.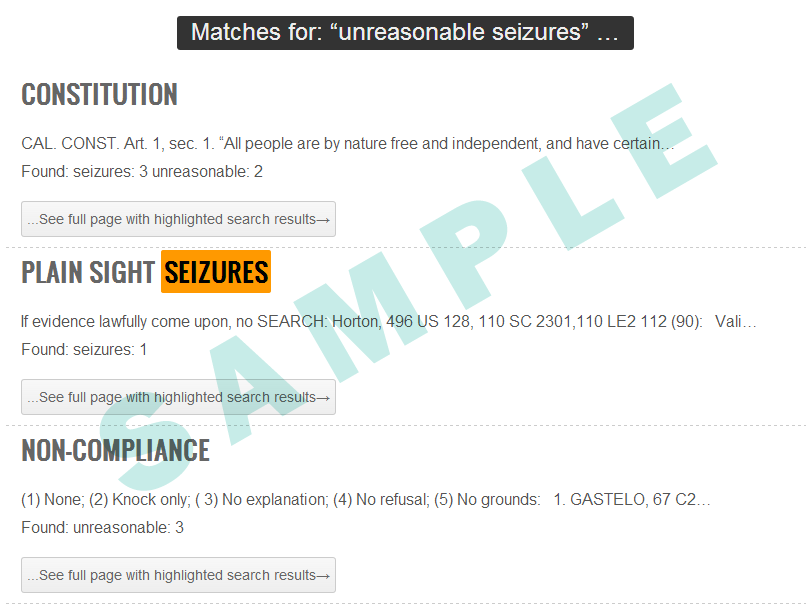 For example, if you search for "unreasonable seizures", any page with the word "unreasonable" or the word "seizures" will be listed.  Under each page's excerpt, the number of instances of each word is listed (e.g., "Found: seizures: 3 unreasonable: 2").
When you click to see the full page of results, your search terms will be highlighted throughout the page and easy to scan.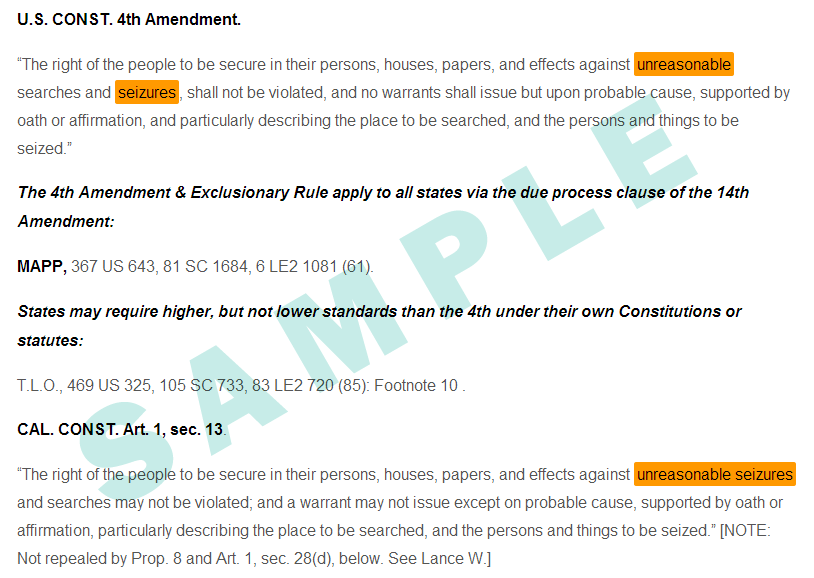 NOTE: The search does not support use of BOOLEAN operators (AND, OR, NOT, etc).
How to Change Your Password
Login to Bell's. In the lower left of each page, click the link to My Account under "Subscriber Access". From there, you may edit your password and other account details.
After you make your changes, click the "Update Account" button to save them.
Not a subscriber?
Register now for full access!